Ilkay Gundogan warns Chelsea that Manchester City will be extra ready for them this weekend.
City has made a superb start to the season and head to Stamford Bridge on Saturday on the back of emphatic wins over Liverpool (5-0), Watford (6-0) and Crystal Palace (5-0).
Those results have taken City to the top of the Premier League – albeit only on goal difference from Manchester United – and confidence is high.
Midfielder Gundogan, 26, said: 'It's a huge game and it's away, so it's even more difficult, but we feel ready.
'If you ask the manager there is always something to improve but we know that we are a great team, we have great players and it's just up to us to prove that every fourth day. 'It's also about character, going to Stamford Bridge against the champions to play our game. 'We're going to prove that we are ready for that and hopefully it will be a great game for us.'
City has dropped just two points in six Premier League outings, opened their Champions League campaign with successive wins and made progress in the Carabao Cup.
As well as their ruthlessness in the attack, the defense has also been strong with five clean sheets in the last six games, all without injured captain Vincent Kompany.
Gundogan said: 'At the back too we have conceded few, so our defense has also done a great job in the last weeks. It's a combination of both and that's a really good recipe to win games.' Gundogan only returned to action in the past fortnight after a nine-month lay-off following knee surgery last December.
He did suffer another injury scare when he took a blow to his other knee against West Brom in the Carabao Cup last week but it did not prove serious.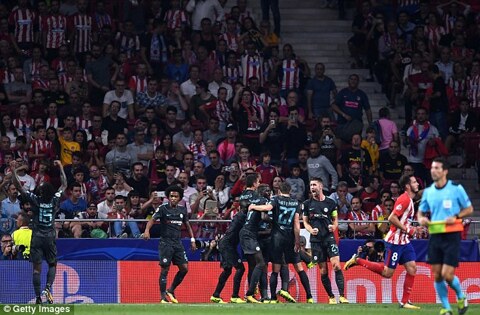 The Germany international, who came off the bench in Tuesday's Champions League defeat of Shakhtar Donetsk, said: 'I'm just happy that I returned that quick after that hard tackle. I tried to train on Friday and I still felt a little bit in my knee.
'Saturday it was not possible to be in the squad but I trained Sunday and Monday and I felt good, so I'm just happy to return that quickly.'
Gundogan has offered his support to team-mate Benjamin Mendy, who could now be facing a long time on the sidelines with a knee injury himself.
The left-back was hurt in Saturday's victory over Palace and will be assessed this week by Barcelona-based specialist Dr. Ramon Cugat who treated Gundogan, among several other City players, last year.
Gundogan said: 'I think our task now is just to support him and just to be there if he needs something from us. I know how difficult these kind of situations are.
'There's not really much to talk about at the moment but we wish him a very speedy recovery and we support him every way.'